2014-12-09 - Creating a compelling search experience with Azure Search
Azure Search is the new "Search-As-A-Service" offering allowing to easily add search to your application and leverage advanced capabilities like geo-spatial search, faceting, scoring profiles, … In this session we'll be discussing these features and take a closer look at the tools available today to interact with Azure Search.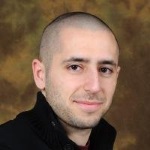 Speaker: Sandrino Di Mattia is a Microsoft Azure consultant at RealDolmen with a passion for the cloud. As a developer, architect, trainer … he's helping out customers adopt the Microsoft Azure platform within their organization. He also enjoys writing about the Azure platform on his blog and on Just Azure.
Video